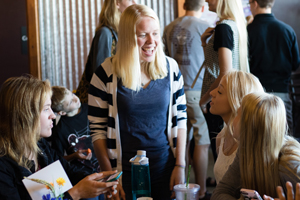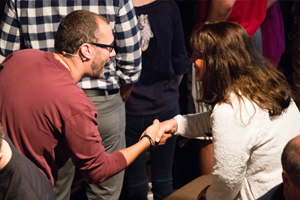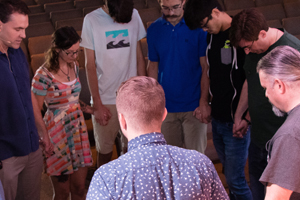 On a Journey Together
Are you looking for a place to belong? Do you want to journey with others and develop relationships or raise your kids in a positive and caring environment? Do you have questions about God and wonder what He thinks about your less than perfect past? Then you've found the right place. Cornerstone is a bunch of imperfect people in need of God's help and guidance.
We don't expect people to get their lives in order before coming. We want everyone to come as they are and experience the life-giving power of God working in our community. Together, we desire to deepen our relationships with God and with each other, and to love those in our community and our world. We invite you to join us on the journey and experience Real Community!
The Corner of 5th and State in Downtown La Crosse, WI
Children's (Kidzone) Ministry and Video Cafe only at the 9:00 service
We've never experienced this type of community at any other church. At Cornerstone, strong Biblical teaching and Life Groups who truly "do life" together and really dig into God's word. We've been blessed beyond belief by the people at Cornerstone and love serving as a family!
I love that Cornerstone doesn't just say that anyone is welcome. We truly live it out. Jesus didn't play favorites and neither do we. No matter who you are, what you've done or what you believe, you are invited and welcomed with open arms. We are all just a bunch of broken, messed up people in need of a Savior. None of us has it all figured out. We're all on a journey towards Christ together.
Looking for a perfect church with perfect people? Keep looking! At Cornerstone, you can dive in with a bunch of imperfect people like me to explore and learn about what God wants us to be and how we can impact our community. My faith as grown more rapidly and deeply than any other time in my life.
I love Cornerstone because it feels like a family. I started coming because the hope of Christ was evident in this body of believers and I stay because now it feels like home. Cornerstone is about being intrinsically bound to each other's lives and growing in Christ.
I love Cornerstone because I felt accepted and not judged from day one. Cornerstone truly wants to partner with me on my spiritual journey. They give me the tools necessary to accomplish this too! I have experienced true community, spiritual growth, and lasting friendships. I have found such grace and compassion that I have never seen or felt anywhere else.
Our Current Series

Promises, Promises

Depending which source you trust, there are somewhere between 3,100 and 7,500 promises in the Bible. Fortunately for us, the overwhelming majority are positive, though, as we just discovered in Amos, many of the promises are for judgment and punishment. Some promises are to individuals or small groups while others are to entire nations or the whole world. During this series, we will explore those more corporate and positive promises. There are five primary covenants between God and His people. By their very nature, divine covenants are one-sided. God says, "Here is a great gift for you. Take it and enjoy it. Nothing will make me take it back." Join us Sunday mornings as we learn what each of these promises means for us today.