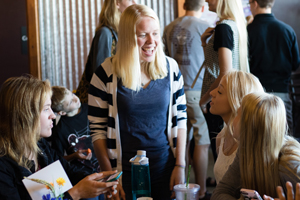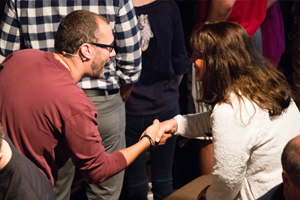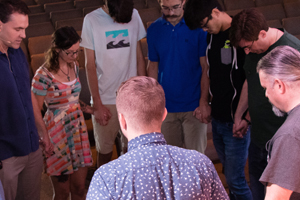 On a Journey Together
Are you looking for a place to belong? Do you want to journey with others and develop relationships or raise your kids in a positive and caring environment? Do you have questions about God and wonder what He thinks about your less than perfect past? Then you've found the right place. Cornerstone is a bunch of imperfect people in need of God's help and guidance.
We don't expect people to get their lives in order before coming. We want everyone to come as they are and experience the life-giving power of God working in our community. Together, we desire to deepen our relationships with God and with each other, and to love those in our community and our world. We invite you to join us on the journey and experience Real Community!
The Corner of 5th and State in Downtown La Crosse, WI
Expanding to two services on March 3rd: 9:00 and 10:45! (No Kids ministry at 10:45)
We've never experienced this type of community at any other church. At Cornerstone, strong Biblical teaching and Life Groups who truly "do life" together and really dig into God's word. We've been blessed beyond belief by the people at Cornerstone and love serving as a family!
I love that Cornerstone doesn't just say that anyone is welcome. We truly live it out. Jesus didn't play favorites and neither do we. No matter who you are, what you've done or what you believe, you are invited and welcomed with open arms. We are all just a bunch of broken, messed up people in need of a Savior. None of us has it all figured out. We're all on a journey towards Christ together.
I love Cornerstone because I have never felt like I was at home at a church until I walked through Cornerstone's doors. The people are welcoming, inclusive, and some of the most genuine men and women of God I have ever met and have gotten to know. They become like your family, people you can be yourself around, trust, and count on. For me, that is just really extraordinary. Truthfully, that word describes Cornerstone perfectly.
Our Current Series

Significant
Think back on all the people you've met in your life. Most of them have faded from your memory. Some, who you've known for a long time, have had only a minimal impact on you. But there are also probably a few that you only knew for a short time, but their impact is still on you every day. What was special about them? Was it something they said that stuck with you? Was it a selfless act they performed for you? Were they a coach, a teacher or maybe the parent of a childhood friend? The Bible is full of characters that we know very little about but whose story is worth knowing and retelling. In this series, we'll examine a few seemingly minor characters who ended up having a significant impact.